Online Master of Social Work (MSW)
Accessible, Affordable. You Can Do This!
Get Started Today!
To speak with an admissions representative complete the form below.
Note: All fields required.
Earn Your Online MSW with Sacred Heart University
Social workers are an essential part of American health care. They strive to anticipate and respond to the critical issues facing individuals, families, communities, and society at large. Along with exerting a positive affect on quality of life, social workers aim to provide people with the tools they need to lead more fulfilling and meaningful lives. If this sounds like something you see for yourself, then earning a CSWE-accredited Master of Social Work from Sacred Heart University should be part of your plan. The advantages are clear – from enabling you to specialize and prepare for clinical work to the experience you can gain and the higher salary you can command.
Sacred Heart's flexible, online degrees enable you to balance your personal and professional responsibilities while gaining the skills and insights to create a positive impact for organizations in business, healthcare, education, and more.
+9% job growth through 2031, more than 3X the national average1
Top 10% of clinical social workers earn more than $82,5002
MSW salaries average $13,000 more than BSW salaries3
Customize Your Degree
Along with the Advanced Standing Option – which enables you to earn your MSW by completing just 30 credits over 20 months – Sacred Heart offers two specializations for your MSW degree.
Learn to assess and treat mental, emotional, and behavioral disorders, chemical dependency, chronic illnesses, domestic conflicts, and more.
Explore social welfare, human behavior, social justice and research methods, and gain an understanding of how policy impacts social work.
You Belong with SHU!
Our mission to prepare students for lives of professional success and personal and spiritual growth excludes no one. And it's because of that mission — and the spirited way we live it — that students of different faiths, ethnicities, and socio-economic backgrounds have made SHU the launching pad for their dreams and ambitions.
Get Started
Why Online Learning is Right for You
The advantages of online learning are obvious – you don't have to pause your career or rearrange your life to earn the degree you need to take your career to the next level. Another key factor is fit – making sure a school feels right to you. Sacred Heart's Center for Career & Professional Development will welcome you as if you had just walked through the door here in Fairfield. With an exclusive, online recruiting system of 10,000+ employers, one-on-one career counseling, resume workshops, and an active alumni network of more than 35,000, you can rest assured knowing that our campus reaches wherever you are.
How the Curriculum Boosts Your Skills
Our MSW program is accredited by the Council on Social Work Education (CSWE) to ensure the curriculum, field experience requirements, and faculty qualifications are at the forefront of the industry. Along with learning to harness the power of technology to advocate for vulnerable communities, you'll gain a deeper understanding of human behavior, human diversity, and social welfare policy. Practice-based courses focus on clinical assessment, research methods, and more. Electives enable you to dive deeper into the primary disciplines of social work, including mental health and addiction, loss and life transition, children and families, and anti-racist social work practice.
The curriculum is divided into four components.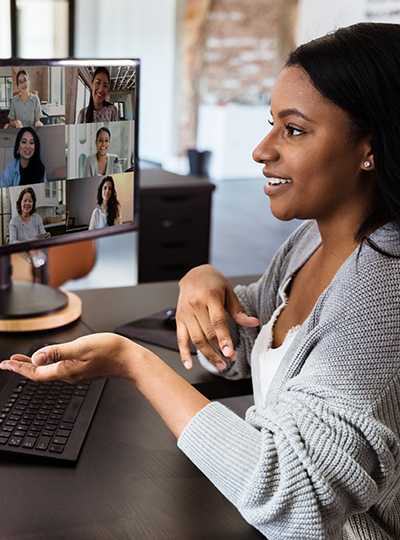 Take Your MSW Anywhere
Be your own boss! Becoming a licensed clinical social worker (LCSW) means you can go into private practice and work with clients on your schedule. If you plan to pursue an alternate career path, then keep this in mind – many employers only hire candidates with a CSWE-accredited degree. Emerging fields in which the demand for social workers continues to increase include probation officers and correctional treatment specialists, substance abuse counselors, school/career counselors, and child and family social workers. Regardless of where you choose to direct your talents, Sacred Heart will be behind you with career coaching, resume workshops, and an extensive network of professional alumni.
Top Career Options for MSW Graduates4
Licensed Clinical Social Worker ($74,728)
Marriage and Family Therapist ($52,049)
Mental Health Counselor/Program Manager ($45,565)
Social/Community Service Manager ($74,000)
Social Policy Advocate ($49,910)
Social Welfare Researcher ($91,953)
Social Service Program Director ($117,186)
Youth Counselor ($29,701)
Hospice/Palliative Care Counselor ($48,212)
Sources
"Social Workers | Occupational Outlook Handbook," U.S. Bureau of Labor Statistics. Retrieved April 2021 from https://www.bls.gov.
"Social Work Salaries and Hiring Outlook," SocialWorkGuide.org. Retrieved April 2021 from https://www.socialworkguide.org.
"Workforce Studies," National Association of Social Workers (NASW). Retrieved April 2021 from https://www.socialworkers.org.
"Job Salaries," PayScale, Inc. Retrieved April 2021 from https://www.payscale.com.