Earn Your MSN 100% Online
Accessible, Affordable. You Can Do This!
Get Started Today!
To speak with an admissions representative complete the form below.
Note: All fields required.
Your Road to Leadership
The Sacred Heart University online Master of Science in Nursing is a direct entry (RN to MSN) program that offers a customizable experience for working nurses. You can support the next generation of nurses as an educator, aspire to become a CNO to manage nursing staff and improve patient outcomes, or lead a team to direct patient care. Whatever your goal, SHU has three specializations to tailor your degree: Nursing Education; Nursing Management and Executive Leadership; and Clinical Nurse Leader.
SHU's award-winning program is accredited by the Commission on Collegiate Nursing Education (CCNE). It's designed for you to finish your coursework at your own speed – from two years to six – to align with your schedule and provide the best balance for your life. All coursework is 100% online and you'll complete your clinical locally.
Sacred Heart's flexible, online degrees enable you to balance your personal and professional responsibilities while gaining the skills and insights to create a positive impact for organizations in business, healthcare, education, and more.
Accredited by the Commission on Collegiate Nursing Education (CCNE)
Master's degree holders earn nearly $13,000 more per year than four-year degree holders1
85% of students believe online learning is the same or better than classroom learning2
Jobs requiring a master's degree are the largest category of projected job growth3
Specialize to Educate, Manage or Lead
Set yourself apart from other nurses with an MSN specialization. Whether you want to advance your bedside skills, educate the next generation or become a leader of other nurses, we have a specialization that suits you.
You've mastered patient care and working as part of a team. Advance as a leader who can inform a team about evidence-based practices, tools and processes to improve patient outcomes. Reshape policy, reduce costs and identify solutions to problems within your healthcare system after a deep immersion of quality care research within the curriculum. This unique MSN without BSN requirement degree offers four core and eight specialized courses. Complete your degree in two to six years, at your own pace, and then be prepared to sit for the American Association of Colleges of Nursing CNL Certification Exam.
Become a well-respected mentor and begin preparing new nurses to care for the patient population. With this online degree from SHU, you can transition into a teaching role, answering the call to address the growing nurse educator shortage. Among the most respected nurse educator programs, our CCNE-accredited degree features core knowledge in health care policy, practice and research plus nine specialized courses to prepare you as a nurse leader, educator and evaluator. Engage with expert faculty and work with a preceptor in two role immersions designed to apply theory to practice, and emerge ready for your CNL exam.
This program prepares you for the Family Nurse Practitioner certification exams offered by the American Nurses Association (ANA) and the American Academy of Nurse Practitioners (AANP).
Through 42 total credit hours, you will gain the skills to diagnose and treat patients over their entire lifespan through the use of health assessments, statistical data, and the diagnostic reasoning process. You'll also learn to communicate health plans to diverse patients with varied family systems, understand the various drug groups, and manage drug therapy to avoid adverse reactions.
The nursing occupational outlook is positive, with plenty of roles for CNOs, directors of patient care and nursing administrators. Whatever your plans are, SHU's online MSN degree in Nursing Management and Executive Leadership develops within you the sought-after skills to become an effective nurse leader who can improve processes and ultimately affect patient outcomes. Apply integrative expertise in strategic planning, quality improvement, workforce development, research and ethics, and human resource management. Courses on budgeting and process will also help you lead with expert insight in your new, advanced role. Upon graduation, enjoy a generous MSN nurse salary and an advanced education that opens doors to higher positions. You can lead a team, department or facility.
Develop the knowledge and skill to manage the care of patients with psychiatric mental health conditions independently, meeting a growing demand in the healthcare marketplace. Courses/topics include: Healthcare Policy and Ethics for Contemporary Nursing Practice, Principles of Healthcare Research for Evidence-Based Nursing Practice, Role Development of the Psychiatric Mental Health Nurse Practitioner and more.
21 Credits; 15 Months; $955 per Credit
Prepare for a career managing patients' psychiatric mental healthcare conditions independently with an affordable, online advanced practice nursing certificate.
Courses/topics include: Role Development of the Psychiatric Mental Health Nurse Practitioner, The Psychiatric Nurse Practitioner Role with Children and Their Families, Advanced Role Development of the Psychiatric Mental Health Nurse Practitioner in Complex Systems and Advanced Psychopharmacology for the PMHNP.
24 Credits; 15 Months; $955 per Credit
Gain skills and knowledge to pursue certification as a family nurse practitioner through the American Nurses Credentialing Center (ANCC) or the American Academy of Nurse Practitioners.
Courses/topics include: Comprehensive Primary Care of the Adult, Primary Care of Children, Primary Care of Women and Advanced Primary Care of Families in Complex Systems.
You Belong with SHU!
Our mission to prepare students for lives of professional success and personal and spiritual growth excludes no one. And it's because of that mission — and the spirited way we live it — that students of different faiths, ethnicities, and socio-economic backgrounds have made SHU the launching pad for their dreams and ambitions.
Get Started
Why Online Learning is Right for You
The advantages of online learning are obvious – you don't have to pause your career or rearrange your life to earn the degree you need to take your career to the next level. Another key factor is fit – making sure a school feels right to you. Sacred Heart's Center for Career & Professional Development will welcome you as if you had just walked through the door here in Fairfield. With an exclusive, online recruiting system of 10,000+ employers, one-on-one career counseling, resume workshops, and an active alumni network of more than 35,000, you can rest assured knowing that our campus reaches wherever you are.
A Curriculum with No Residency Required
In our MSN curriculum's four core courses, you will explore topics such as health care policy and ethics, the principles of health care research, and the underlying theories of contemporary nursing. Customize your degree with a specialization made up of eight to nine courses. Each specialization concludes with a practicum you can complete near you.
Courses you may take while earning your MSN include: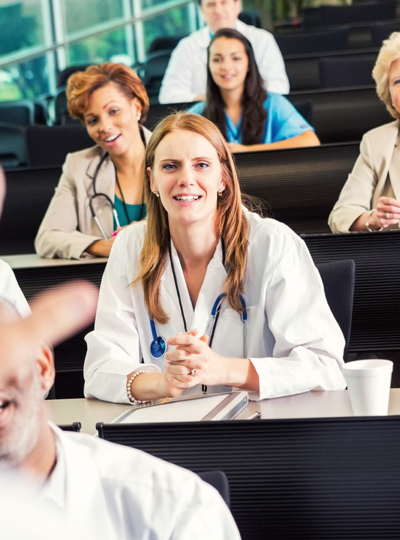 Career Outlook
Earning your MSN opens the door to a wide range of new opportunities, including educational, leadership and administrative positions.
Employment in healthcare occupations is projected to grow 16 percent from 2020 to 2030, much faster than the average for all occupations, adding about 2.6 million new jobs.4 This projected growth is mainly due to an aging population, leading to greater demand for healthcare services. As a result, health care organizations prefer nursing candidates with advanced credentials to fill senior roles. An MSN degree shows that you have the knowledge and critical thinking skills to handle the demands of today's complex medical environment.
Average Annual Salaries in Nursing
Registered Nurse $75,3305
Clinical Nurse Leader $94,0796
Clinical Educator $86,5287
Chief Nursing Officer $142,0128
Sources
"Occupational employment projections to 2022 | Monthly Labor Review," U.S. Bureau of Labor Statistics. Retrieved April 2021 from https://www.bls.gov.
"Learn more, earn more: Education leads to higher wages, lower unemployment," U.S. Bureau of Labor Statistics. Retrieved April 2021 from https://www.bls.gov.
"Online College Students | Comprehensive Data on Demand and Preferences," The Learning House, Inc. and Asianian Market Research. Retrieved April 2021 from http://www.learninghouse.com.
"Healthcare Occupations," Occupational Outlook Handbook, Bureau of Labor Statistics, U.S. Department of Labor. Retrieved November 30, 2021, from https://www.bls.gov.
"Registered Nurse Salaries," Glassdoor.com. Retrieved November 30, 2021, from https;//www.glassdoor.com.
"Clinical Nurse Leader Salaries," Glassdoor.com. Retrieved November 30, 2021, from https://www.glassdoor.com.
"Clinical Educator Salaries," Glassdoor.com. Retrieved November 30, 2021, from https://www.glassdoor.com.
"Chief Nursing Officer Salaries," Glassdoor.com. Retrieved November 30, 2021, from https://www.glassdoor.com.