Online Degree Programs
Accessible, Affordable. You Can Do This!
Get Started Today!
To speak with an admissions representative complete the form below.
Note: All fields required.
Earn an Online Degree with Sacred Heart University
Want a surefire way to advance in an ever-changing economy? Invest in yourself and earn a degree that qualifies you for higher-paying positions with greater job security. And if you're not moving forward, then perhaps you should change course entirely and pursue a passion that may have been on the backburner! Regardless of your purpose, Sacred Heart University is ready to be your educational partner in success by offering online degrees at a variety of levels and in some of the nation's most forward-thinking programs.
Sacred Heart's flexible, online degrees enable you to balance your personal and professional responsibilities while gaining the skills and insights to create a positive impact for organizations in business, healthcare, education, and more.
Master's degree holders earn nearly $13,000 more per year than four-year degree holders1
85% of students believe online learning is the same or better than classroom learning2
Employment growth expected in 21 of 22 major occupational groups3
Jobs requiring a master's degree are the largest category of projected job growth3
Degrees for Your Journey
We offer a robust suite of online degrees that can help you earn the credentials that bring more reward and more respect.
30 Total Credits; 18 Months; $390 Cost Per Credit
Develop the knowledge required for today's nursing roles while gaining the personal touch you need to become a better nurse for your patients.
Courses/topics include: Health Assessment for RNs; Leadership in Contemporary Nursing Practice; and Population and Global Health.
Total Credits: 30-120 (undergrad)/24-27 (grad); 3.5 Years; Cost Per Credit: $390 (undergrad)/$695 (grad)
Gain access to top-tier nursing positions – plus save time and money – by earning both degrees at once. Focus on providing exceptional nursing care or branch out into education, research, consulting, and/or management.
Specializations at the MSN level include Clinical Nurse Leader (CNL), Nursing Education, Nursing Management & Executive Leadership, and Family Nurse Practitioner.
36-39 Total Credits; 2 Years; $695 Cost Per Credit
Earn the essential credential for advancing into leadership roles. Explore health care policy and ethics, principles of health care research, and the underlying theories of contemporary nursing.
Specializations include MSN: Clinical Nurse Leader (CNL), MSN: Nursing Education, MSN: Nursing Management & Executive Leadership, and MSN: Family Nurse Practitioner.
42 total credits; 3 years; $955 cost per credit
This program prepares you for the Family Nurse Practitioner certification exams offered by the American Nurses Association (ANA) and the American Academy of Nurse Practitioners (AANP). Through 42 total credit hours, you will gain the skills to diagnose and treat patients over their entire lifespan through the use of health assessments, statistical data, and the diagnostic reasoning process. You'll also learn to communicate health plans to diverse patients with varied family systems, understand the various drug groups, and manage drug therapy to avoid adverse reactions.
42 Credits; 2.5 Years; $955 per Credit
Develop the knowledge and skill to manage the care of patients with psychiatric mental health conditions independently, meeting a growing demand in the healthcare marketplace.
Courses/topics include: Healthcare Policy and Ethics for Contemporary Nursing Practice, Principles of Healthcare Research for Evidence-Based Nursing Practice, Role Development of the Psychiatric Mental Health Nurse Practitioner and more.
60 Total Credits; 3.5 Years; $825 Cost Per Credit
Learn to aid vulnerable populations with a deeper understanding of modern social work theory and practice models from a perspective of truth and justice.
Specializations include MSW: Direct Clinical Practice and MSW: Direct Community Practice.
60 CREDIT HOURS; 2.5 YEARS; $800 COST PER CREDIT
Prepare to meet the diverse needs of PK-12 students across the domains of academic development, college and career readiness, and social-emotional learning as a certified/licensed school counselor working in elementary and secondary schools.
Courses/topics include Counseling Theories; Counseling Children & Adolescents; and Comprehensive School Counseling Programs, Leadership, & Advocacy.
60 Credit Hours; 2 Years; $800 Cost Per Credit
Prepare to make a difference in the global mental health community through expertise in counseling.
Topics include human development, counseling theories, assessment techniques, substance use disorders, crisis and trauma, and counselling couples, families, and children.
37 TOTAL CREDITS; 2 YEARS; $725 COST PER CREDIT
Our online Master of Health Administration program's curriculum prepares students for leadership roles in the dynamic field of healthcare. You will graduate with a master's degree designed to elevate your career in both clinical and non-clinical environments.
24 Credits; 15 Months; $955 per Credit
Gain skills and knowledge to pursue certification as a family nurse practitioner through the American Nurses Credentialing Center (ANCC) or the American Academy of Nurse Practitioners.
Courses/topics include: Comprehensive Primary Care of the Adult, Primary Care of Children, Primary Care of Women and Advanced Primary Care of Families in Complex Systems.
21 Credits; 15 Months; $955 per Credit
Prepare for a career managing patients' psychiatric mental healthcare conditions independently with an affordable, online advanced practice nursing certificate.
Courses/topics include: Role Development of the Psychiatric Mental Health Nurse Practitioner, The Psychiatric Nurse Practitioner Role with Children and Their Families, Advanced Role Development of the Psychiatric Mental Health Nurse Practitioner in Complex Systems and Advanced Psychopharmacology for the PMHNP.
You Belong with SHU!
Our mission to prepare students for lives of professional success and personal and spiritual growth excludes no one. And it's because of that mission — and the spirited way we live it — that students of different faiths, ethnicities, and socio-economic backgrounds have made SHU the launching pad for their dreams and ambitions.
Get Started
Why Online Learning is Right for You
The advantages of online learning are obvious – you don't have to pause your career or rearrange your life to earn the degree you need to take your career to the next level. Another key factor is fit – making sure a school feels right to you. Sacred Heart's Center for Career & Professional Development will welcome you as if you had just walked through the door here in Fairfield. With an exclusive, online recruiting system of 10,000+ employers, one-on-one career counseling, resume workshops, and an active alumni network of more than 35,000, you can rest assured knowing that our campus reaches wherever you are.
How the Curriculum Supports Your Development
Learning a single new skill can result in a pay bump of 25-30 percent.4 So when you're looking to earn an online degree, you need to make sure you'll not only learn the skills, but also how to use them in the real world. Practical application is an essential part of each program's curriculum at Sacred Heart University. We focus on educating the whole person through literature, philosophy, religion, sociology, and more. From our signature curriculum – The Human Journey – to the many individual programs that have been accredited by industry-leading organizations, you can rest assured knowing the education you receive here will support your growth and development for years to come.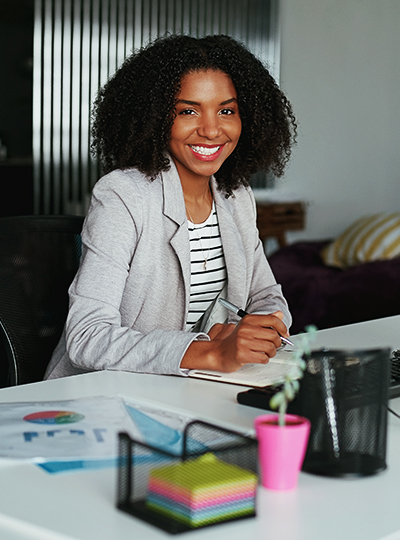 Put Your Online Degree to Work
Whether you know exactly where you're going or have yet to decide on a destination, one thing is clear – Sacred Heart University should be your educational partner. Our suite of nursing programs takes you from initial certification through the highest degree available. The skills learned as part of an online Master of Social Work can be applied to business and clinical settings. The bottom line is that flexibility drives demand, and earning an SHU online degree will communicate to employers that you're versatile and can handle anything that comes your way.
Top 10 Growth Industries through 2029 (expected job growth)5
Health Care Support Industry (+22.6%)
Social Services Industry (+12.5%)
Computer and Mathematical Industry (+12.1%)
Health Care Practitioners and Technical Industry (+9.1%)
Personal Care and Service Industry (+7.7%)
Food Preparation and Serving Industry (+7.3%)
Business and Financial Operations Industry (+5.3%)
Legal Industry (+5.1%)
Building and Grounds Cleaning and Maintenance Industry (+4.9%)
Management Industry (+4.7)
Sources
"Occupational employment projections to 2022 | Monthly Labor Review," U.S. Bureau of Labor Statistics. Retrieved April 2021 from https://www.bls.gov.
"Learn more, earn more: Education leads to higher wages, lower unemployment," U.S. Bureau of Labor Statistics. Retrieved April 2021 from https://www.bls.gov.
"Online College Students | Comprehensive Data on Demand and Preferences," The Learning House, Inc. and Asianian Market Research. Retrieved April 2021 from http://www.learninghouse.com.
"Science Confirms: The More You Learn, The More You Earn. Here's The Data…," LinkedIn. Retrieved April 2021 from https://www.linkedin.com.
"The US will add 6 million jobs in the next decade. Here are the 10 industries projected to grow the most.," Business Insider. Retrieved April 2021 from https://www.businessinsider.com.